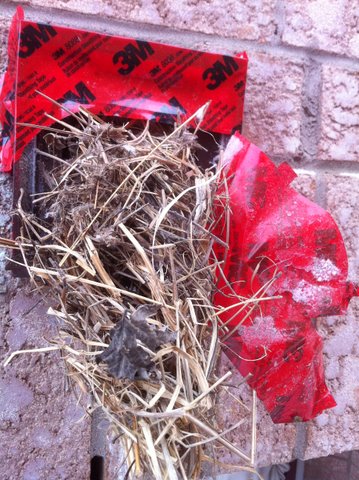 So it's -10c today and we take a call from Mississauga regarding a birds nest in the dryer vent. This customer has had 2 companies try to remove the birds nest in the last 7 months and both have failed! Up for a challenge and not wanting to be beaten Dryer Vent Cleaner went to the rescue!
Birds Nest Removal
Battling through snow that finally decided to appear we turned up and met the customer. The vent had been missing the flaps (deteriorated from the weather) so a bird decided to take root and made a nice cosy nest in there 3 feet inside. Using our special birds nest retrieval tools we removed the nest and cleaned the dryer vent through from the outside and from the inside.  We replaced the vent and caulked the new vent, added a special bird proof screen over the new vent to prevent return visitors.
Do Not Use Panty Hose on Dryer Vent
Because of this nest and the fact he chose the wrong company twice to clean out his dryer vent he has been using the dryer with a panty hose over the end and venting in inside the home! This is dangerous and should not be done! Dryers need to vent outside the home, restricting the airflow causes lint to accumulate in the dryer fast and can lead to a dryer fire.
Birds Nest removal in Ontario
If you live in Ontario, especially Burlington, Mississauga, Hamilton, Oakville and you have problems with your dryer taking too long to dry your clothes, you have a birds nest stuck in your dryer vent, you need your dryer vent relocating, need a new dryer vent or just know you need your dryer vent cleaning call the professional dryer vent cleaning company. Satisfaction guaranteed or you pay nothing.