Did you know that nearly 50% of all home fires are a direct result of improper smoke alarm installation?  It's true.  Many of these smoke detectors are improperly installed from the start or the property owners have failed to replace the devices at the proper times.  Or worse, some people simply refuse to install new batteries once the devices start making that annoying "beeping" warning.
Smoke Alarms Should Be Replaced Every 7-10 Years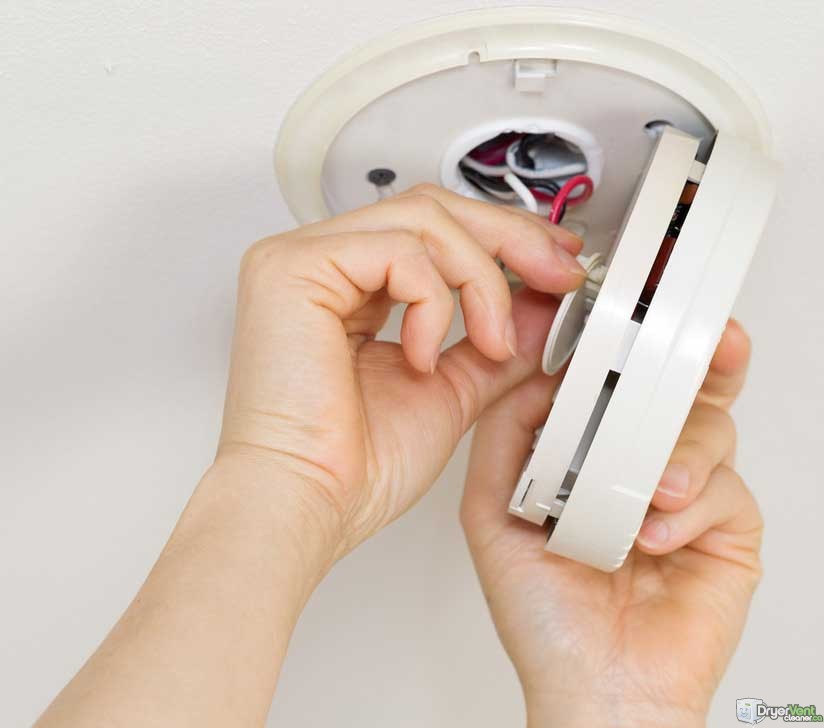 Smoke alarm replacement should occur once every 7 to 10 years at least.  These devices are just like any other type of machine.  They are prone to breakdowns and malfunctions over time as dust, dirt, and debris infiltrate the systems and make them non-operational.  The trouble is that homeowners are very often unaware that the devices are not actually operational until it is way too late.
Problems With Old Smoke Alarms Failing and Not Interconnecting
Old smoke alarms should be changed as they are less effective and do stop functioning! They should interconnect, meaning if one goes off they should all go off. This quick video explains the faults with smoke alarms and why they should be changed out
.
Correct Smoke Alarm Installation Saves Lives
Statistics show that over 60% of all Ontario house fires from 1995 to 2004 were in homes with smoke alarms that either had no batteries at all, included dead batteries that were no longer working, or had batteries that were installed incorrectly.  Proper smoke alarm installation and replacement could have saved many lives and millions of dollars in property damage.
Smoke Alarm Legal Responsibilities
Most property owners now have a legal responsibility to include a fully functioning smoke alarm directly outside the door of each and every bedroom.  And at least one smoke detector must be installed properly on each floor of the home.  Fail to uphold these guidelines, and you could actually be charged with a criminal act in a court of law!
For those people who are renting, it is the landlord's legal responsibility to make sure that these rules and regulations are followed.  This means that smoke alarm replacement and inspection should be carefully monitored at least once per year by the property owner.  And as a tenant, you should also test the units yourself.  If they are not in proper working order, you should immediately contact the landlord.  Then recheck the system once again after the new smoke alarm installation process is complete.
General Rule of Thumb for Smoke Alarm Maintenance
Located on the bottom or side face of every smoke alarm is a "test" button. For all homeowners and tenants, it is a good practice to test each of your alarms at least once per month.  Even though many of these devices are designed to "beep" when the batteries go dead, this is not always the case.  A good rule of thumb is to change your smoke alarm batteries twice per year whether they need it or not.  An easy way to remember is to schedule a battery change every time that you change your clocks for daylight savings time in the spring and fall.
Different Types of Energy Resources
When it comes to managing the smoke alarm replacement and testing for your home, it is important to note that not all of these devices are battery operated.  Some of them are directly connected to your home's electrical power source.  Do you know which type that you have installed in your home?
Only a small portion of the public's home alarm systems actually rely strictly on direct electrical current.  Unfortunately, these are the ones that are also most likely to fall victim to improper smoke alarm installation methods by the construction contractors when the home was originally built.  This also means that when you experience a power outage of any kind, perhaps due to a storm or power blackout, then your alarm systems are no longer working either.  If the power outage occurs at night while your family is unaware and fast asleep, then your family and home is in severe jeopardy. Consider replacing these electricity power smoke alarms with models that are "dual powered", meaning that they run on both electricity and standard 9 volt batteries.
Different Types of Smoke Alarms
Besides the power source, there are other variations in design to the smoke alarms that most often are installed in the home.  Here are some of the differences between the two.
 Ionization Systems
Cheapest in price
Respond much faster to household flames rather than smoky fires.
Some brand names offer models with extended battery life options

Photoelectric Systems

Best for detecting slow burning fires or those that give off a great deal of white or gray smoke before igniting into full flame.
Less likely to accidentally go off in those rare occurrences of cooking smoke.
Contact us at Dryer Vent Cleaner today for all of your  smoke alarm replacement needs.  We can inspect all of your current smoke detectors, even the ones in those hard-to-reach places, like in your stairwells with those very tall ceilings.  We will be happy to schedule a visit and complete the entire process quickly and easily!