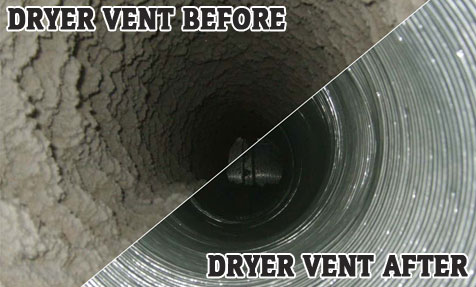 There are actually more than 15,500 clothes dryer fires every year, the majority of these are easily avoidable. Clogged Dryer vents will make the clothes dryer run considerably hotter and so as to dry the clothes, your dryer must run for a longer period. Listed below are just a few of the frequently asked questions we get, regarding dryer vent cleaning and also dryer lint removal.
Why should I have my dryer vent cleaned?
It greatly reduces the chance of a dryer fire
Cut down drying times through greater efficiency
Considerably lower your utility bills
Less dust around the house! Your dryer creates lots of lint, if your dryer vents clogged that lint cannot escape outside it does to the laundry room.
Prolongs the life span of your dryer
Lessens the amount of allergens in your house
Excessive heat produced by clogged dryer vents can easily ruin your clothes
How frequently should my dryer vent cleaned?
Every household differs, however a great rule of thumb is:
With 1-2 people in the house: Once every two years
With 3-5+ people in the household: Once per year
Do I Need To call up an appliance technician or even a warranty service provider first?
A: Absolutely not! Appliance specialists will bill you money for the service call. When they turn up the very first thing they'll ask is " Have you had your dryer vent cleaned ? " Dryer vent cleaning's a service which they don't perform! Many of them won't repair anything on the clothes dryer until you've had your dryer vent cleaned.
Meaning, absolutely nothing will get repaired. However, you will be out of pocket for the service call out.
It is far better to call out a dryer vent cleaner first, and then an appliance technician if there is still a problem.
Are there any signs that my dryer vent should be cleaned?
Drying your clothes is taking longer than one cycle in order to dry each load
You are noticing less lint (sometimes no lint) on the lint trap when you check
You notice lint accumulation around the dryer vent hood (normally outside your home)
Clothing is extremely hot after a drying cycle, airflow is restricted
The surface of your dryer can be quite hot whilst in use
You see excessive lint on your clothes
You cannot remember when your dryer vent was last cleaned
Just what are some reasons for dryer fires?
Clothes dryer vent builds up with lint which slips through the lint trap
Dryer fires can happen as lint builds up within the dryer or in the dryer vent
Lint can easily obstruct the movement of air, leading to excessive heat build up, occasionally causing a fire
Lint is incredibly flammable – mix that with the above mentioned and it could lead to a disaster