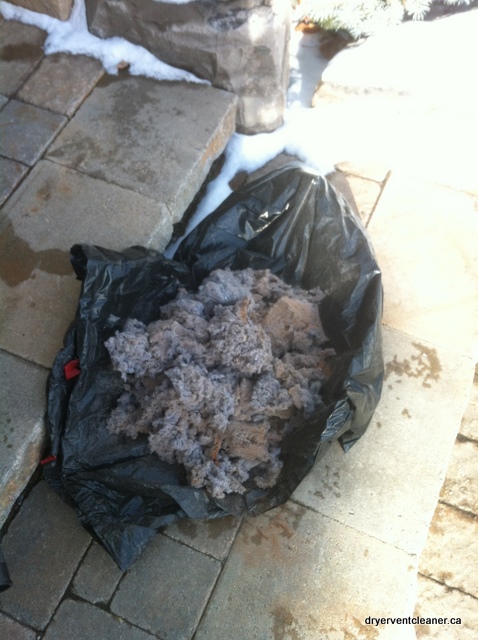 It is amazing how many of our customers think that their dryer vent cleaning  is not needed.  Possibly due to the fact they clean the lint trap out after each use puts them at ease, thinking all is well. The truth is that just because you clean out the lint trap, it does not mean your dryer is running efficiently. Lint builds up when there is an accumulation in the dryer exhaust system. The vent hood could be blocked because we all forget to check the flaps are flapping about as the dryer runs. You could have a long dryer vent run with several 90 degree bends or even a birds nest or ice lodging in your dryer vent, there are many reasons. But the truth is the dryer and dryer vent should be part of essential home maintenance, the general rule being 1-2 people in the home dryer vent cleaning every 2 years, 2-4 people in the house every year the dryer vent should be cleaned, 6+ then you should be at least once per year in not every 6 months. Then the dryer itself should be inspected and cleaned to remove lint build up.
Dryer Cleaning & Dryer Vent Cleaning in Burlington & Oakville
Yesterday we cleaned a ladies dryer vent in Millcroft area of Burlington. We only cleaned the vent which vented on the roof,  the dryer was under warranty from Samsung. The dryer technician came out for her 1 year old dryer and said she needed to clean her dryer vent. Not knowing here to call she called the local fire department, then a duct cleaning company,  then she found us on Google. When we got there she had the foil dryer hose, which is not recommended by the manufacturer or us they burn and spread the fire into the walls.
[tube]14L7c_6ZLOI?rel=0[/tube]
When we finished cleaning her house and the neighbors, we went canvassing to promote our service.  In Millcroft before Christmas there was a dryer fire, well we met a lady who had had a dryer fire and put it out herself using baking soda, determined not to lose her house and the $$$$'s in Reno costs she had just a spent she considers herself lucky and the 10 townhouses she links too! Why are so many people in the dark, and reluctant to address a real issue that is there in their home?
Today we meet a mom of 2 great kids who thinks that it is just a crappy dryer making her clothes take so long to dry. After chatting she agreed to let us show her the real issues.
Why She Needed Her Dryer & Dryer Vent Cleaning
Her dryer was taking 2-3 cycles to dry each load
Her dryer was really hot to touch
Her ducts were cold after a few feet (heat was stuck in her dryer)
No air was coming our from the dryer vent hood
When we showed her the issues, she then told us 2 family members had experienced house fires – 1 had lost his home. We cleaned the dryer and the whole dryer vent system, the dryer let out a sigh of relief as we started it it was running quieter, the dryer was no longer red hot to touch, you could feel the whole dryer vent was warm and there was air coming out the dryer vent hood. A really happy customer which really makes our day!
Replacing Your Dryer Please Clean Your Dryer Vent
We see time and time again people buying a new dryer because they think the old one is on it's last legs. What they do not realize is their dryer vent is clogged! So they install their nice shiny new dryer and find they have the same problem, clothes take a long time to dry.
Last Friday we take a call for a gent who was replacing his dryer and needed the dryer vent cleaning. This guy is smart, so many people buy a new dryer thinking the old one is faulty only to find they still have a problem … they have a clogged dryer vent. We arrive and find the dryer vent is choked, they have lived in the house 6 years just the 2 of them. We removed 1 1/2 vacuum loads of lint. The homeowner wants to know why no  one is educating her and others to the perils inside ones clothes dryer … we are slowly and surely.
Dryer Vent Cleaning Do Not Neglect Your Dryer or Dryer Vent!
If you are a homeowner, hair studio, laundromat, property management company, hotel, residential home, daycare running a dryer that is taking too long to dry a load contact us today. If you are school, daycare or charity organization contact us for our free dryer and free dryer vent cleaning service.