We recently moved the location of the dryer vent in an old home in Hamilton. The old dryer vent was white vinyl going through the crawl space over 28 feet long, and was seriously clogged. The homeowner wanted a new dryer vent hole making closer to the laundry room and replace the vinyl duct with all metal dryer vent.
Dryer Vent Installation
Below you can see the photos of the new dryer vent we installed – before and after the vent has to be installed at a slight angle as there was the plug socket behind the dryer with no room to move the washer & dryer.
Because the age of the house and the home owner saw how clogged the dryer vent was we also cleaned the dryer inside the cabinet as a lot of lint has accumulated inside and in the back of the drum there was lots of burnt lint.
Dryer Vent Photo #1
Note the white vinyl hose from the dryer – this being an older home went all the way to the outside wall vent. The white vinyl is no longer used and should be switched out if you have this. All dryers have a warning label on the back that states that vinyl and thin foil transition hose should not be used! An all metal dryer vent is what the dryer manufacturers recommend, either semi rigid or solid metal.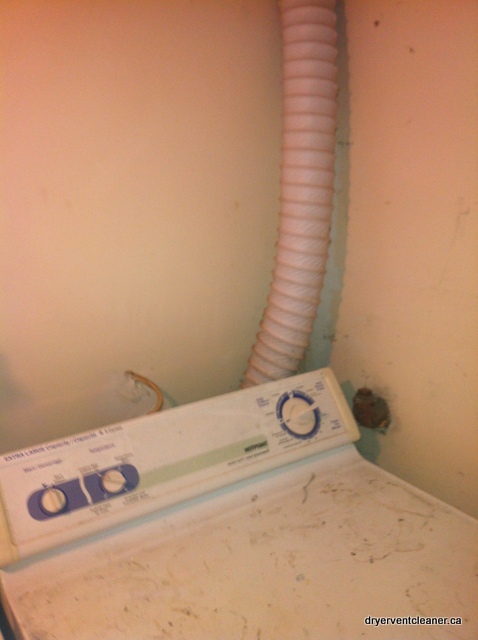 Dryer Vent Installation Photo #2
The customer wanted the outside dryer vent to be on the outside between 2 walls – a tight fit but we like to be challenged.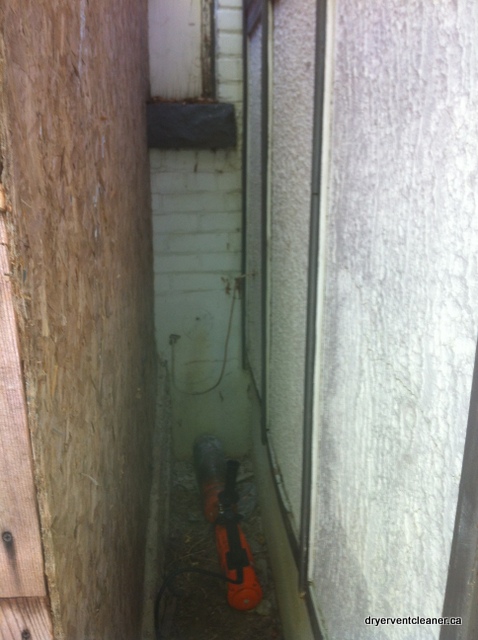 Dryer Vent Photo #3
All metal dryer vent installed just need to remove the old white vinyl hose now.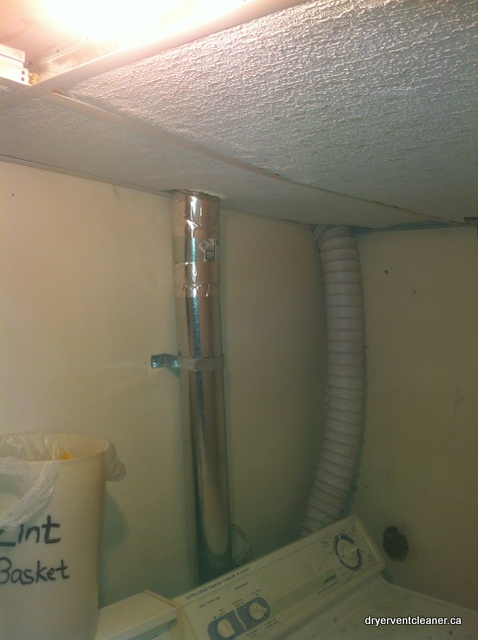 Dryer Vent Photo #4
The dryer vent installation complete, happy customer and happy tenants in the home too!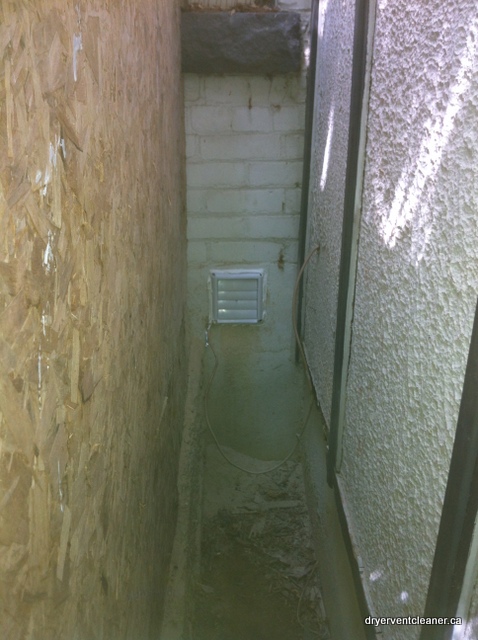 Dryer Vent Installation Service
If you live in the Hamilton, Oakville or Burlington area of Ontario and need your dryer vent relocating, a new dryer vent installing or your dryer vent cleaning call the Dryer Vent Cleaner on 905 966 0838