We see this error " flow sense error" a lot with LG dryers, and it is a good thing it's helping keep your family & home safe! Basically, on the newer LG dryers, they have a sensor built in that monitors the pressure in the drum to determine the airflow and the condition of the vent, thus warning you of potential fire risks due to dryer vent issues
When your LG clothes dryer takes longer than normal to dry, there's typically a reason causing this to happen.
What Does Flow Sense or d80, d90 or d95 Error Message mean?
When the control panel displays any bar illuminated on the Flow Sense warning icon or shows either of these error codes: d80, d90 or d95 – there's a problem with poor airflow through the dryer vent, resulting in the dryer shutting down to avoid it overheating and quite possibly becoming a fire risk.
LG Dryer Check List No Error Message But Clothes not Drying
If there is no warning appearing on the display panel but your clothes are not drying, let's check the obvious, you should check the following:
Has the circuit breaker tripped or blown a fuse?
If it's a new installation, is there 220 volt AC connection at the dryer?
If running the Cotton/Normal cycle, check if the Energy Saver option been deactivated?
Could it possibly be the load size is too small that the dryer sensors can't sense any moisture?
Have you cleaned the lint trap before loading the dryer?
(although the dryer powers on, no heat might still be an electrical issue. Dryer heating element runs on 220 volts, 30 amps whilst the motor, control panel, inside lights and the electronics all work on 110 volts 15 amps).
Flow Sense How it Works and What Causes the Error
Over 80% of residential household fires in North America start inside the dryer. The main cause of these dryer fires can be one of several things
1. The dryer exhaust venting duct being too long, too many elbows and plugged up with lint
2. The hose being constricted, crushed or clogged with lint and moisture thus preventing correct airflow from the dryer.
3. The vent cap on the outside is packed with lint thus lint has backed up through the dryer vent and has been accumulating inside the dryer
Flow Sense, the Safety Feature That Tell's you There's an Issue With Your Dryer Vent
Clothes dryer manufacturers are actually mandated to include safety systems to check for over heating and turn off dryer immediately if detected so as to prevent any fire hazard.
The built in Flow Sense warning in your LG  dryer is made to help avoid poor performance caused by restrictions in the dryer vent exhaust system thereby alerting you to any issue with your dryer vent for you to get fixed. To clear the flow sense error you would need to either have dryer vent cleaning done, reroute the dryer vent, change the hose behind the dryer or shorten the length of the dryer vent. Here at Dryer Vent Cleaner we always run a pressure test on the dryer vent to prove that the dryer is happy with the clean dryer vent or with the rerouted or replaced dryer vent. We also run the built-in diagnostics on the LG dryer to prove the dryer is happy with the dryer duct after we do our service.
Drying your clothes for a long time at high temperature may damage your clothing. A fine example of this damage is the lint collected in the filter trap. Despite catching 30% of the lint, the remaining 70% of the lint will try to follow the moisture from the clothes out through the dryer vent, over time clogging insides of the duct work just like cholesterol in one's arteries, slowly restricting the airflow.
Did you ever as a kid, pack the exhaust of a car with snow, only to watch the car start up then stall and after stop running? Well, a dryer whose dryer vent exhaust is clogged does exactly the same.
Troubleshooting Flow Sense Error on Your LG Dryer
Whenever Flow Sense indicator comes on without or with these "d80, d90 or d95"  error codes shown, it is important to check and clean the dryer vent all the way to the
vent cap/hood outside the house. Be sure to check outside to see how much or how little airflow there is. If you have a louvered vent cap, good airflow has the flaps almost parallel to the ground. Also, remove the lint trap and using a flashlight peek below to see how much lint is stuck below. Lint stuck below the dryers lint trap can cause the clothes to take longer to dry as it acts as a plug, restricting the air flow.
Dryer Vent Cleaning to Fix LG Dryer Flow Sense WARNING!
Worth noting on the back of your LG dryer there is a warning label that says not to use thin foil, well 90% of dryers are installed with this hose and it's a problem with LG dryers they are restricting the airflow and do get crushed behind the dryer. We recommend changing the hose for a more solid setup and can make suggestions if we come out to fix your issues with the dryer vent. 99.9% of the time if you are having a Flow sense, D80, D 90 or D95 error it is vent related, and we can fix it.
We know dryer venting issues and our video above has over 193,000 views, we fix your LG dryer errors and recommend inprovements if needed. But hey don't take our word for it below are the last few reviews from our customers.
Dryer vent issue resolved
November 2022
Iain, you are worth your weight in gold. Not only were you able to find and solve the problem in my 50' dryer vent I got education as well.
Thanks for your thoroughness and efficiency and humour
Excellent work!
Iain installed a proper dryer vent exhaust to the outside of our house. This involved carefully figuring out where to install it with few options in our old 110-year-old row red brick house. He was friendly, efficient, and did an exceptional job. We would hire him again in a heartbeat if need be. Thanks, Iain!
Response from Dryer Vent Cleaner
Thank you Caroline for your business and this review! I love these older homes and the challenges they offer. No dryer vent for over 110 years is amazing, proof that hanging clothes does work
Great work
Ian is such a great person and very professional. Attentive to details and quality! For sure I'll be recommending this to all my friends
Summary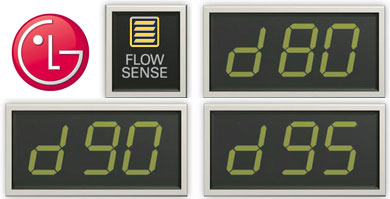 Article Name
Fix LG Dryer Flow Sense WARNING!
Description
Flow sense D80, D90 or D95 are error messages that will alert you to the fact there is an issue with your dryer vent. Dryer vent cleaning can normally rectify this issue
Author
Publisher Name
Publisher Logo