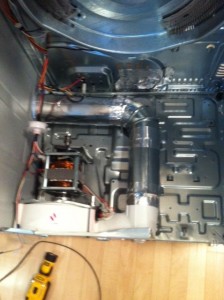 Dryer side vents are handy to make use of when space is a premium, like in a closet where having the dryer vent to the back prevents the door from closing. Or if by pushing the dryer too far back you are crushing the hose causing airflow restriction.
Dryer Side Vent Kit Installation
To install your dryer side vent it is not easy, you will need to purchase the side vent kit, purchase some foil tape and have the tools and knowledge to take the dryer apart to install the kit. You will need to remove the front of the dryer and the drum to be sure you can remove the existing dryer duct and route the new side vent kit fixing it securely to the blower motor housing  in the process.
We Make and Install Dryer Side Vent Kits
If you are local to Burlington, Oakville, Mississauga, Hamilton or Stoney Creek we can make you a custom dryer side vent kit and install it for you. Call us today on 905 9660838
Other Dryer side vent installs