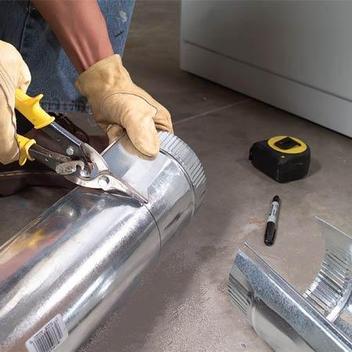 Dryer Vent Installation: Installing dryer vents, although straightforward in principle, could be a considerable fire risk if not done properly. Correct dryer vent installing calls for knowing the purpose, as well as function of the dryer exhaust system. Warm air created by electric element or natural gas burner is blown through the laundry while it tumbles inside your dryer. The damp air needs to vent through the dryers exhaust duct to terminate outside your home. A dryer vent system that's wrongly installed can easily restrict ventilation and may cause the dryer to work much harder to dry each load. A badly installed clothes dryer vent system may lead to considerably higher energy costs, an early replacement of your clothes dryer and possibly a dryer fire. Below are some suggestions from the dryer vent cleaner.
Dryer Vent Installation Services We Offer
Re-route existing dryer vent – we determine if a better route can be used, especially when old white vinyl or thin foil duct is used through walls or when the length of the dryer vent is a worry. Any dryer ducts that go through drywall, ceilings or attics should be solid metal with no screws in the joints.
Replace incorrect dryer hose – We replace wrong dryer vent hose for the correct up to code all metal or semi rigid. We specialize in working within finished walls and ceilings and ensure minimum disruption
New dryer vent installations – Need a new dryer vent installing? We can help determine the best route and using top quality materials to ensure maximum efficiency and speedy drying times.
White Vinyl Dryer Vent Hose Should not be used
The vent pipe (AKA "transition hose" connecting the dryer to the wall) needs to be made from semi rigid or rigid metal that's 4 inches across. That old thin foil or even white vinyl plastic tubing no longer complies with today's dryer vent safety codes. You may wonder why the change? basically they do not contain a fire and actually will help fuel a fire should one occur. Take a look on the back of your dryer – there is a warning label stating you should not use "thin foil or vinyl hose" this could lead an insurance company to void a claim if there was a fire with the wrong hose connected. Dryer lint accumulates inside the dryer vent and also inside the clothes dryer after some time. To help reduce lint build-up, your dryer vent ought to be really smooth inside. Sections of dryer vent must be joined with aluminum foil tape, never screws which will stick out and can easily snag and catch lint.
Dryer Vent Installation Tips
Legally, all dryers need to be vented outdoors. When you've got a gas clothes dryer, your dryer vent is also used for removing gas by-products, such as deadly carbon monoxide, away from your home. Your dryer vent system needs to be installed with as few 90 degree turns as is possible so the shorter the vent run, the better and safer it is. Longer dryer vents mean the dryer has to work that much harder to expel the hot air through the vent to outside your home. Dryer vents need to be supported with straps, this ensures there aren't any low areas for moisture or lint to accumulate and build up.
New Home Dryer Vent Problems and Solutions
Modern homes are constructed with comfort and ease for the home owner in mind; however, not enough thought is given to dryer vent installation, safety and efficiency. Builders are now locating the laundry rooms towards the middle of the house, on the main floor, up on the second floor between bedrooms close to where dirty clothes laundry originates from & clean clothes go back to. This now means the dryer vent runs a long distance from the back of the dryer to the outside wall vent. Some builders even use larger ducting thinking this can compensate for the longer runs, however all it does is reduce the velocity of the airflow thus creating another issue. Correct dryer vent installation is most essential with this type of dryer set up. A long dryer vent makes the task of drying clothes harder for some dryers . Your average clothes dryer can handle venting through about 25 feet of dryer venting without any difficulty. The blower motor lacks the power required to drive the air flow as far, as the distance increases the air flow reduces so lint accumulates in the dryer vent. Building code determines that the maximum length of a dryer vent should not exceed 25 feet, however each 90 degree elbow is classed as 5 feet and each 45 degree is 2.5 feet. This means a few bends can easily reduce the distance for the dryer to work efficiently. Reduced air flow leads to moisture in the dryer vent and lint build up as it sticks inside the vent, this over time accumulates and a reduction in air flow. When lint builds up the dryer is almost suffocating, the dryer over heats which can lead to the dryers thermal fuse, or thermal cutoff to activate or simply the dryer taking a long time to dry. Usually the dryers drum temperature is between 130-175 degrees, but it can easily rise to 300 degrees or more, over time getting hot enough to ignite any lint that's accumulated inside the dryer.
Dryer Vent Installation : Do it Properly to Prevent Problems
Correct dryer vent installation along with an yearly dryer vent cleaning can save you from various costly issues in the future, such as:
As much as $300 each year in extra utility costs because of reduced air-flow and a longer drying time
Costly dryer repair services as a result of an overworked dryer
Mildew and mold problems for your house; polluting the air you breathe in
Deadly carbon monoxide poisoning because of incorrect venting of your gas dryer
Clothes dryer fire, resulting in substantial home damage, loss of property, loss of lives
Are you certain your current dryer vent is properly installed? When you've got any doubts, you should contact the Dryer Vent Cleaner for a complete inspection on 905 966 0838. The charge for dryer vent service will quickly pay for itself, since it eliminates all of the issues listed above.
Summary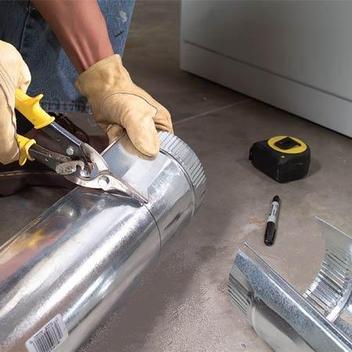 Service Type
Provider Name
Dryer Vent Cleaner
,
5189 Ravine Crescent
,
Burlington
,
Ontario
-
L7L6N2
,
Telephone No.9059660838
Area
Burlington, Oakville, Mississauga, Stoney Creek, Hamilton, Ancaster & Milton
Description
Dryer vent cleaner is experts at dryer vent installation, dryer vent re-routing, and dryer vent repairs. A properly installed dryer vent will be safe, efficient and easy to clean in the future.