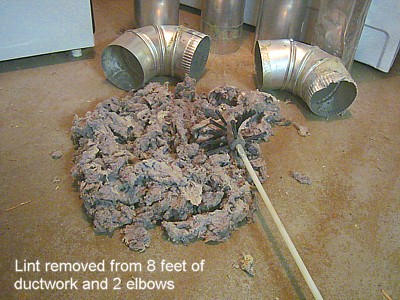 If you notice a sudden spike in your electric bill, you may want to look into the condition of your dryer, especially the dryer vent. The dryer is the second most expensive appliance that runs in your household and having a dirty and dust-clogged vent will only make it run less efficiently and effectively.
 Clothes Take Longer to Dry?
If you have a dirty dryer vent, you may notice that your clothes take longer to dry which can increase your electric bill significantly. Needing to do an extra cycle just to finish a single load is a waste of your time and electricity. Having to wait for your clothes to dry longer than usual can slow you down in finishing your standard laundry load which in turn could affect other chores and activities that you have planned for the day. Moreover, a clogged and dirty dryer vent is also considered as a fire hazard especially older models using plastic or foil accordion type ducts.
 Why Choose a Professional Dryer Vent Cleaner?
Because most dryers are situated in awkward and tight spots in the home, it becomes difficult to assess a dryer's condition and maintenance needs without professional help. Just taking a dryer's state at face value could have severe consequences that's why it's advisable to take note of the signs that accompany a dirty dryer vent and to call a profession dryer vent cleaning company if necessary.
 Signs Your Dryer Vent Needs Cleaning
Here are some of the signs to look out for in determining whether your dryer vent needs to be cleaned:
When you have finished a dryer cycle and your clothes feel damper or hotter than they usually are
You feel that the exterior of the dryer is hotter than usual when you're using it
Your laundry rooms become more warm and humid than normal when the dryer is turned on
There's lint on your clothes after drying
Lint build-up is present at the back part of your dryer
You do not know when your dryer vent was last cleaned
If you notice any of the mentioned signs, it's best for you to schedule a cleanup of your dryer vent to prevent your dryer from getting worse.
How Dryer Vents Are Cleaned
You won't need to worry about not being able to use your dryer for extended periods. The process for cleaning dryer vents is fast, effective and will not negatively affect or inconvenience other parts of your home or other appliances. Professional cleaners are able to finish cleaning within a few hours depending on how much lint build-up is present and how difficult it is to have full access to the vents. Whilst some companies will use an air compressor there is no guarantee that all lint is removed. Therefore it is recommended a rod system be used to ensure that every inch of duct is polished free of lint.
To give you a brief overview of how dryer vent cleaning is done, here are the basic steps:
Diagnostics are performed to see the extent of the lint build up present in the vents. Your dryer will be separated from the wall for better access.
A high powered vacuum will be attached on the vent to aid making the lint more mobile.
The dryer vent cleaner will then proceed to set up the rods and drills that will be used to manoeuvre and clean the inside of the vents. The rods are bendable and will be able to reach and bend through corners and tight spots.
The cleaner will pull and push the rod inside and out repetitively to get the lint out of your vent. The blower will be turned on the entire time to make the process easier and more effective.
It may sound like a simple process and it is. However, it's still best to leave it to the professionals to avoid unwanted accidents, injuries or damages to your dryer. There are many factors than need to be considered when cleaning the dryer vent
Still Not Convinced? Dryer Vent Cleaner offers 100% free Dryer Vent Inspection

Burlington's Dryer Vent Cleaner offers a free dryer vent safety inspection. We provide dryer vent cleaning services using a technological and modern approach that greatly complements today's smart dryers. Just because you have the most up-to-date dryer doesn't automatically mean that maintenance will not be required (your dryer manufacturer states this too!). It is still ideal to have your dryer vents cleaned at least once a year to prevent destructive lint build-up which shortens the life of dryers and makes them under perform and costs you in higher energy costs..
Dryer Vent Cleaner uses a digital reading to show you the quality of airflow in your dryer before and after the dryer vent cleaning so that you'll be able to see for yourself the difference that a clean dryer vent can make. An inspection camera is also used to visually ensure that all areas within the vent is clean and working properly. Just because your dryer vent is out of site does not mean a fire will never happen, don't wait until it is too late call 905 966 0838 today!
Dryer Vent Cleaning Costs
The cost of dryer vent cleaning far out weighs the cost of energy savings and the peace of mind knowing your family and home is safe. You can save as much as $300 each year just by having your dryer vent cleaned. If you are in Burlington, Oakville, Hamilton, Milton or Mississauga call us today for an over the phone quote on Dryer Vent Cleaning