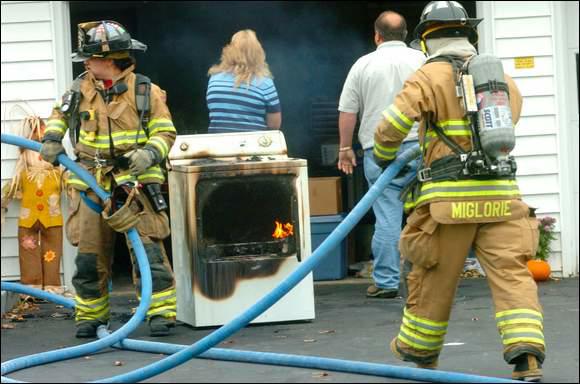 Lint is nearly microscopic and is composed of fluffy textile fibers and often break out of the weave that they belong to in clothing and other fabrics. This accumulates especially in dryer vents, even if you have a lint screen in place. Lint build up not only adversely affects the performance of your dryer, it also carries with it risks to your equipment and home.
Here are some of the most common risks associated with dirty and clogged dryer vents:
Dryer Overheating
When there is an accumulation of lint and other dirt on dryer vents, your dryer will be forced to operate harder and hotter than normal because the airflow is restricted and blocked. This often causes damage to the dryer's heating elements and heat sensor safety switches which can make your dryer malfunction and short-circuit.
To give you a basic overview of how dryers work hot air enters the dryer's main chamber or drum where your clothes are. The hot air then moves around the drum in order to dry the clothes and to get rid of the moisture inside.
If the hot air does not have a proper exhaust, it will stay in the drum which will increase the pressure and temperature inside which could fatally damage your dryer. In order to correct the damages, you'll need to make extra expenses for repairs or to replace the unit completely.
Electric dryers that overheat may also affect circuitry within your household if it is plugged in an outlet that has other appliances or gadgets plugged in.
Dryer Fire Hazard
Lint is extremely combustible. According to a U.S Fire Administration study for the Topical Fire Research Series of 2007, lint, dust and fibers account for 56% of the total items that are the first to ignite during fires. Now imagine having all that lint present in dryer vents that is overheating and lacking in an effective and operational exhaust where pressure can escape, it is a recipe for an infernal disaster.
Residential fires caused by lint build up in dryer vents are actually more common than you think. While there are no gathered statistics for Canada at the moment, in the US however there were 15,600 incidences of dryer fires in 2007 alone based on the most recently gathered data by the U.S Fire Administration.
These fires risks can be easily reduced by regular dryer maintenance and vent cleaning.
Dryer vents can be cleaned within a few hours by a professional dryer vent cleaner and if regular maintenance is done on your dryer, you'll only need to have it cleaned twice a year at the most. On your part, make sure that the dryer's lint screen is clean and unobstructed before you use your dryer. This will greatly increase your dryer's efficiency and effectiveness and drastically reduce the risks associated with lint build up.
It's not difficult to maintain a safe home when you have preventative routines set in place.
Read our Dryer Vent Cleaning Reviews
Dryer vent issue resolved
November 2022
Iain, you are worth your weight in gold. Not only were you able to find and solve the problem in my 50' dryer vent I got education as well.
Thanks for your thoroughness and efficiency and humour
Excellent work!
Iain installed a proper dryer vent exhaust to the outside of our house. This involved carefully figuring out where to install it with few options in our old 110-year-old row red brick house. He was friendly, efficient, and did an exceptional job. We would hire him again in a heartbeat if need be. Thanks, Iain!
Response from Dryer Vent Cleaner
Thank you Caroline for your business and this review! I love these older homes and the challenges they offer. No dryer vent for over 110 years is amazing, proof that hanging clothes does work
Great work
Ian is such a great person and very professional. Attentive to details and quality! For sure I'll be recommending this to all my friends